Hampstead Tea Organic Darjeeling First Flush Loose Leaf Tea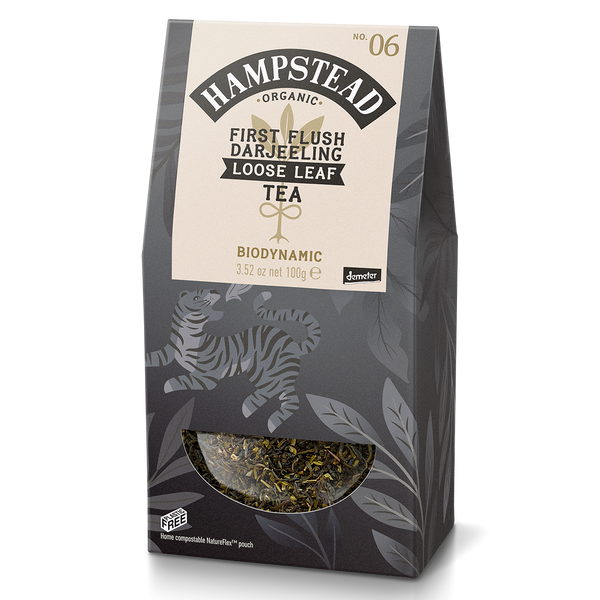 Made of the tender pickings from the fresh fine new leaves in spring (March - April). First Flush Darjeeling is considered the 'grand cru' of teas and is produced in a very small quantity.
Zesty and full of vitality, with a light golden liquor. 
The secret to our tea's unique flavour is its origin: Makaibari Tea Garden, Darjeeling, India. This natural Eden at the foothills of the Himalayas is grown using regenerative farming methods. We only harvest the highest quality leaves, which are hand plucked and withered before being rolled by our master teamen. The result is an aromatic and flavourful cup of tea that will leave you wanting more!

DISCOVER DARJEELING
Darjeeling, India is world-renowned for growing exquisite soft teas. Producing only small quantities of its teas each year, the flavour is so distinctly specific to their soil and climate, they have achieved "Geographical Indication" - the same status as Champagne grapes!
Not only is the flavour of Darjeeling so distinct—it's commonly referred to as having the characteristics of muscat grapes—its relatively small production quantities make it, specifically the early harvests, or flushes, particularly prized.
We're proud to offer our award-winning Biodynamic Darjeeling Tea, from the Makaibari Tea Estate in Darjeeling, India. The first tea estate in the world to be certified organic in 1988, and then the first to gain Fairtrade and Biodynamic certification in 1993.
TASTING NOTES
Zesty and full of vitality, with a light golden liquor. Delicate Tea with floral notes, delicate rose and overtones of roasted peach. 

BREWING SUGGESTION
Use level teaspoon of tea leaves per person. Brew with freshly boiled water and infuse for up to three minutes. It is delicious with a slice of lemon or on its own. This beautiful tea is perfect for any occasion any time of the day.
INGREDIENTS
Darjeeling Black First Flush Tea (100%)
ETHICAL TEA
Certifications; Organic, Biodynamic & Fairtrade
We're committed to growing our tea in the most sustainable, ethical and environmentally friendly way possible. Find out more about how we do this by clicking here.
PACKAGING
Home compostable, plastic-free packaging with the pouch made from Natureflex biodegradable material. Find out more about our plastic-free commitment here.